By Nicole Borgenicht / The Desert, August 27, 2015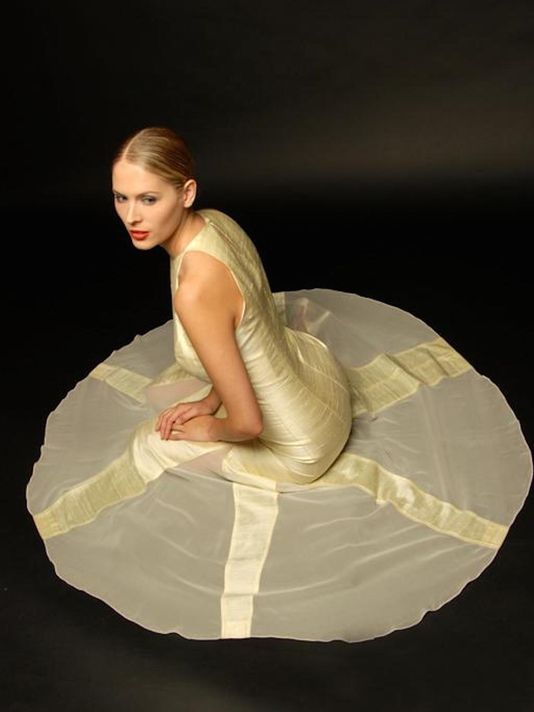 --
Garyk Lee knows everything important to a woman from her multitasking life to her need for comfort and fashionable wear. For that reason, his fashion line, Sporture Bamboo Collection is full of style flexibility. Lee's distinctive thermal-regulating "bamboo" fabric (70 percent bamboo, 20 percent organic cotton, 10 percent stretch Lycra) keeps you cool and dry, while providing a luxurious feel and appearance. In addition to everyday women's fashion, Lee creates eloquent designer dresses and separates for a variety of climates.
Hand-painted bamboo cape shown with flat front bamboo pant. (Photo: Photo by Sherri Breyer)
As a multi-faceted designer, he creates timeless apparel that works in today's world of international travel as well. His fashion career began as a young man by opening the first couturier salon on Robertson Blvd in Los Angeles. Early success at his salon led him to New York City where his designs were represented in Neiman Marcus and Bonwit Teller, to comprise direct orders from his Couture Collection.
"The late Mr. Blackwell, (International Fashion critic) was quoted in print and on television stating, 'Garyk Lee has pure couture talent! He has Class! There is hope for some sanity in today's fashion world!'" Blackwell considered Lee's talent as innate. Mr. Blackwell personally told me 'Finish your quest!,'"Lee said.
Green Benefits For All
Lee is on this adventurous quest, now having arrived at his 21st century "Sporture Collection" of eco- friendly bamboo. They are ingenious coordinate staples and elegant dresses. "Being aware of today's needs both on a personal customer level and on a conscious level…I have created this collection with a Green Philosophy…I have designed garments that are ultra sophisticated, extremely comfortable, and easy on the eye. Women of all sizes will find their look with the Sporture Collection." Lee said.
Specialty
In addition, Lee creates one-of-a-kind pieces he embellishes with hand-painting or appliques stones or lace, as artistically gorgeous designs in his collection. Other exciting variations include special events he plays a role in creating looks to showcase. "Most recently, one of my clients: Desert Socialite Marylnn Gladstein, was invited to the Downton Abbey Castle outside London for a 20's Theme ball …I created an original flapper style dress for her!," Lee said.
Future News
Lee plans to offer the collection through on-line shopping as he incorporates it with a Television Show in Pre-Production. "Warrington Lane, is a dramedy about two families embedded in a Business Dynasty filled with controversy, alluring situations and plenty of high style," he said. In this show, the designer's fashions are worn by several Daytime Television Soap Divas often seen in the desert.